SITHY LAPIDARY SCHOOL - Sri Lanka
( Teaching & Training Gem Cutting )

We just started the Lapidary school (non-profitable Oranization) to support youths of Sri Lanka and to teach them the right way of cutting & polishing Gemstone (Lapidary Arts) for high-quality standard.

Our objective is to train the youths of Sri Lanka to cut gemstones in high level and to earn a living as a professional gem cutter. To learn more about our Lapidary school please write to us on e.mail :sithygems@sltnet.lk . We need the World's Lapidary clubs & Association's Support & Co-operation to have this LAPIDARY SCHOOL - Sri Lanka to continue.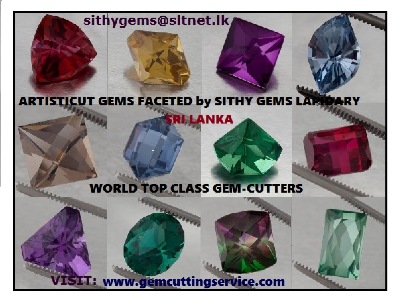 You wanted
us to list you
here please
list ours in
your link
Directory &
Contact us,
will List you
here.


WE TRAIN OUR CUTTERS TO FACET GEMS ARTISTICALLY

gemcutters, gem polishers, rockhound, rockhounders,

GEM & MINERAL ROCK SHOPS, GEM MINERS AND
LAPIDARY CLUBS - USA

Alabama


Kontzen Rocks , 1504 Main St., Fultondale, AL 35068, 205-919-7752.

Southeastern Mineral Market, 1612 Colesbury Circle, Hoover, AL 35226, 205-823-2970

Proctors Gem & Rock Shop, Old Moulton Road, Decatur, AL, 35601, 205-353-3021

Treasures Rock Shop, 1206 Andrew Jackson Way NE, Huntsville, AL, 35801-3513, 205-534-1212

Mystic Merchant, Semmes, AL, 36575, 334-645-9081,
----------------------------------------------------------


Alaska

White Nights Co, 420 Oceanview Dr., Anchorage, AK, 99515, 907-345-5531

Rock Shop/Frontier Imports, Bogard & Copper Creek Rd., Wasilla, AK 99654,
907-373-3094
----------------------------------------------------


Arizona

Myers Lapidary, 5820 N. 35th Ave., Phoenix, AZ 85017, 602-841-4434, T-S 9-5.

Shades Of The Earth, , Phoenix, AZ, 85001, 602-861-1830

Bitners Inc, 42 W Hatcher Rd, Phoenix, AZ, 85021-2448, 602-870-0075

Arizona Gem & Minerals Inc, 22025 N Black Canyon Hwy, Phoenix, AZ, 85027-1918, 602-780-4903

Stoney's Rocks, 6700 E. Main St., Mesa, AZ 85205, 602-985-5594

David Shannon Minerals, 6649 E. Rustic Dr., Mesa, AZ 85215 602-985-0557 (Call First)

49er Wholesale Minerals, , Scottsdale, AZ, 85251, 602-994-9024

Cave Creek Mistress Mine Rock Shop & Museum, 44402 N Seven Springs Rd, Scottsdale, AZ, 85251, 602-488-0842

C B Wholesale Gems & Minerals, , Scottsdale, AZ, 85251, 480-425-8679

Rocks And Gems Of The Ages, 7238 E Main St, Scottsdale, AZ, 85251-4413, 602-947-4962

Mineral & Fossil Gallery Of Scottsdale, 34505 N Scottsdale Rd, Scottsdale, AZ, 85262-1202, 602-488-3953

Crystal Pockets, 6304 S. Clark Dr., Tempe, AZ 85283, 602-820-3067

Pgr Gems & Minerals, , Quartzsite, AZ, 85346, 520-927-5200

Quartzsite Gem & Mineral Club, , Quartzsite, AZ, 85346, 520-927-6363

Duncan's Minerals, 2424 Kathleen Ave., P.O. Box 4665, Yuma, ZA, 85366 (Wholesale Only)

Copper City Rock Shop, 566 E Ash St, Globe, AZ, 85501-2296, 520-425-7885

Arizona Gems & Crystals, 1705 W 14th Dr, Safford, AZ, 85546-4003, 520-428-5164

Reyes Rock Shop, 717 W 4th St, Benson, AZ, 85602-6431, 520-586-9482

Minerals & More, 24 Brewery Ave. (POB 83), Bisbee, AZ, 85603, 520-432-3065 (Also known as David H. Garske, Ph.D. Mineralogist.

Czar Minerals, Clawson Av & Tombstone Canyon, Bisbee, AZ, 85603, 520-432-2698

The Rocksmiths, P.O. Box 157, Tombstone, AZ 85638, 602-457-3691

University Of Arizona Museums Mineralogical, College Of, Tucson, AZ, 85702, 520-621-6024

Stone People Products, Oro Valley (Tucson), AZ, 520-297-3561

Top Gem Minerals Inc, 1201 B. N. Main St, Tucson, AZ, 85702, 520-622-6633 (Wholesale Only)

Kino Rocks And Minerals, 6756 S Nogales Hwy, Tucson, AZ, 85706-6802, 520-294-0143

V Rock Shop, 933 N. Main Ave., Tucson, AZ, 520-882-8886, Tucson@vrockshop.com. (Wholesale Only)

Em's Gems, 8846 E. 35th Cir., Tucson, AZ 85710, 520-886-6942

Continental Minerals, 4737 E. Adams St., Tucson, AZ 85712, 602-795-4251

Discount Agate House, 3401 N Dodge Blvd, Tucson, AZ, 85716-1478, 520-323-0781

Tucson Gem & Mineral Society, Inc, 3727 E Blacklidge Dr, Tucson, AZ, 85716-1718, 520-322-5773

Sonoran Desert Gems, 6666 E. Golf Links Rd., #155, Tucson, AZ, 85730, 520-745-6132

Western Minerals, P.O. Box 43603, Tucson, AZ 85733, 602-325-4534

Tucson Mineral And Gemworld, 2801 S Kinney Rd, Tucson, AZ, 85735-1505, 520-883-0682

Zee's, 2990 E. Michigan Dr., Tucson, AZ, 85714, 520-294-9316

From the Earth, 4471 W. Meggan Pl., Tucson, AZ 85741, 520-744-3125 (Wholesale)

Minwreck, 8701-74 E. Tanque Verde Rd., Tucson, AZ 85749, 520-207-9958,

C & E Rock Sales, 105 Second St., St Johns, AZ, 520-337-4337, 520-337-3093 (fax). Petrified Wood Specialists

St Johns Rock Shop, 160 E Commercial, Saint Johns, AZ, 85936, 520-337-4459 (Mail Order--Wholesale Only)

Holbrook Rock Shop, 108 S Apache Dr, Holbrook, AZ, 86025-2910, 520-524-1842

Arizona Gems & Minerals, 6370 E Hwy 69, Prescott Valley, AZ, 86301, 520-772-6443

Arizona Gems Minerals Bead & Jewelry Supplies, , Prescott Valley, AZ, 86312, 800-356-6903

Grayson Roy Minerals, , Clarkdale, AZ, 86324, 520-639-2915

Native & Nature, 248 N Highway 89a, Sedona, AZ, 86336-4237, 520-282-7870

Ramsey's Rocks & Minerals Inc, 152 Highway 179, Sedona, AZ, 86336-6116, 520-204-2075

Mineral & Fossil Gallery Of Sedona, 671 Highway 179, Sedona, AZ, 86336-6160, 520-282-9366

Dad's Rock Shop, 4508 S. Hwy. 95, G&H, Ft. Mohave, AZ 86427, 520-763-3311.

Mccarrell Rock Shop, Chambers, Chambers, AZ, 86512, 520-688-2638


Tom's Hidden Valley Treasures, 11400 Hidden Valley Rd., Sedona, Arizona, 86336 Sales: (928) 634-4698 Cell: (928) 300-3582 Email: SedonaGarry@Yahoo.com
--------------------------------------------------------------



Arkansas

Colemans Rocks R Gems, 1400 E Grand Ave, Hot Springs National, AR, 71901-3736, 501-624-7280

Red Barn Rock Shop, 1501 E Grand Ave, Hot Springs National, AR, 71901-3739, 501-624-7403

Lucky Strike Rock Shop, 2385 N Highway 7, Hot Springs Village, AR, 71909-9694, 501-623-5423

Wrights Rock Shop Inc, 3612 Albert Pike Rd, Hot Springs, AR, 71913-4544, 501-767-4800, M-S 8-5

Rays Rock Shop, 4001 Central Ave, Hot Springs National, AR, 71913-7208, 501-525-2012

Colemans Rock Shop, 5837 N Highway 7, Jessieville, AR, 71949-8524, 501-984-5328

Robins Mining Co., P.O. Box 236, Mt. Ida, AR, 501-867-2530

Wegner Quartz Crystal Mines, P.O. Box 205, Mt. Ida, AR, 71957, 870-867-2309, 800-367-9888

Fiddlers Ridge Rock Shop, Hwy 270, Mount Ida, AR, 71957, 501-867-2127

Crystal Mountain Gems, Hwy 270, E of Mt. Ida, P.O. Box 1487, Mt. Ida, AR 71957, 501-243-9286

Miner's Camping and Rock Shop, 2235 Hwy 301 S., Murfreesboro, AR, 71956, 870-285-2722 (Located near Diamond Mining Park)

Rock & Mineral Mine, Hwy 62 E, Eureka Springs, AR, 72632, 501-253-9555

Rainbow Rock Shop, Highway 65 S, Marshall, AR, 72650, 501-448-5571
---------------------------------------------------------------


California

Shales Gems & Minerals, 9234 W Pico Blvd, Beverly Hills, CA, 90209, 310-276-8222

Culver City Rock & Mineral Club Workshop, 10866 Culver Blvd,

Culver City, CA, 90230-3738, 310-836-4611

Marge's Rock & Gem Shop, 13641 Inglewood Ave,

Hawthorne, CA, 90250-5610, 310-675-7328

Bourget Bros., 1636 11th St., Santa Monica, CA, 90404, 310-450-6556

M.K. Gems & Minerals, P.O. Box 817, Stanton, CA 90680, 310-694-4062

El Bazaar Rock Shop, 14522 Polk St, Sylmar, CA, 91342-4003, 818-361-5321

Williams Gem-Lap, 18346 3/4 Soledad Canyon Rd, Canyon Country, CA, 91351-3035, 805-252-8900*

Jewel Tunnel Imports, 13100 Spring St., Baldwin Park, CA 91706, 818-814-2257,

Nature Gifts And..., 277 W. Second St, Pomona, CA, 91766, 909-469-0929, Mon.-Sat.

The Gem Connection, P.O. Box 1585, Upland, CA 91785, 909-941-4500

Kens Rock Shop, 8371 La Mesa Blvd, La Mesa, CA, 91941-5242, 619-461-6491

Webers Minerals, 605 San Dieguito Dr, Encinitas, CA, 92024-4537, 760-436-4350

Sin-Am Bridge, 1655 Carizzo Pl., Escondido, CA, 92027, 619-737-3022*

Pala International & The Collector, 912 S. Live Oak Park Rd., Fallbrook, CA 92028, 619-728-9121, 800-854-1598

D.J. Parsons, 1119 S. Mission Rd., #243, Fallbrook, CA 92028, 619-728-8251, dparsons@betacolor.com.us

Palomar Gem And Mineral Club, 2120 Mission Rd, Escondido, CA, 92029-1015, 760-743-0809

Gems Of Pala Inc, 35940 Magee Rd, Pala, CA, 92059-1801, 760-742-1356

Schneiders Rocks And Minerals, 13021 Poway Rd, Poway, CA, 92064-4519, 619-748-3719The Rock Farm, P.O. Box 2055, Ramona, CA 92065, 619-688-1967

Cal Graeber Minerals, P.O. Box 2347, Fallbrook, CA 92088, 619-723-9292, S D

Mineral & Gem Society Ofc, Balboa Park, San Diego, CA, 92100, 619-239-8812

Miners Gems, 823 W Harbor Dr, San Diego, CA, 92101-7705, 619-239-9361

Als Opals Rocks & Gems, 3684 Fairmount Ave, San Diego, CA, 92105-3422, 619-282-1700

La Salida Gems & Minerals, , San Diego, CA, 92113, 619-266-0232

The Tourmaline Man, 4921 W. Mt. View Dr., San Diego, CA 92116, 619-281-4313

Miners Gems & Minerals, 1201 1st St, Coronado, CA, 92118-1462, 619-437-8752

Imperial Valley Gem & Mineral Society, 200 E 2d, Imperial, CA, 92251, 760-355-4867

Mineral & Fossil Gallery, 73-580 El Paseo, Suite A, Palm Desert, CA 92260, 619-776-1994

Kinney's Rocks & Gems, , Palo Verde, CA, 92266, 760-854-3362

Mountain Minerals, 40700 Village Dr, Big Bear Lake, CA, 92315, 909-866-6768

Victor Valley Gem & Mineral Club, 15056 7th St, Victorville, CA, 92392-3811, 760-243-2330

Blals Gems & Minerals, 2805 Majestic Ave, San Bernardino, CA, 92407-6868, 909-880-1166

The Rock Bin, 33020 Dowman, Lake Elsinore, CA 92530, 909 678-3106Wild Rock Ranch, 43600 Sorenson Rd, Aguanga, CA 92536, 909-763-5603

Paavo J. Nylander, 25946 San Leandro Ct., Hemet, CA 92544, 909-927-3884 International Mineral Exchange, PO. Box 1100, Costa Mesa, CA 92627, 714-540-0810*

Kristalle, 875 N. Coast Hwy., Laguna Beach, CA, 92651-1415, 714-494-5155, leicht@kristalle.com

Designs By Nature, 110 S El Camino Real, San Clemente, CA, 92672-4043, 714-498-8358

Kristauphe Gems, 24141 Rue De Cezanne, Laguna Niguel, CA 92677, 949-249-8756

Hobby City Rocks & Gems, 1238 S Beach Bl, Anaheim, CA, 92802, 714-827-5680

Nevade Mineral and Book Company, 342 S. Tustin St., Orange, CA, 92866, 714-633-1549, minbooks@aol.com

Michaels Lapidary & Gem Shop, 354 S Tustin St, Orange, CA, 92866-2502, 714-997-3246

Ventura County Fair Gem & Minerals Building, Vntr Cnty Frgrnds, Ventura, CA, 93001, 805-653-9184Ron's Rocks, 33 Willden Dr., Camarillo, CA 93010, 805-482-4330, Email*

Silverhorn, 1155 Coast Village Rd., Montecito, CA 93108, 805-969-0442

Gary's Jewelry & Lapidary Supplies, 15582, Avenue 296, Visalia, CA 93202, 209-732-1033

Rose's Bead and Rockship, 1531 19th St., Bakersfield, CA 93301, 661-324-2442, 661-324-8703 fax.*

Dad's Rock Shop, 112 E. Cherry Ave., Arroyo Grande, CA, 93420, 805-489-2470

Lorenes Gift & Rock Shop, 235 S Main, Lone Pine, CA, 93545, 760-876-4588

Andy Seibel Minerals, P.O. Box 2091 Tehachapi, CA 93581, 661-823-8091

Rockhound World, 339 E. Belmont, Fresno, CA 93701, 209-266-6122

Fresno Gem & Mineral Society, 340 W Olive Ave, Fresno, CA, 93728-2927, 209-486-7280

Denny Reed Mineral & Crystal Creations, Carmel Plaza, Carmel, CA, 93923, 408-626-8009

Good Neighbor Gem & Lapidary, 760 Market St, San Francisco, CA, 94102-2401, 415-981-6158

New Century Gem And Lapidary, 101 Utah St, San Francisco, CA, 94103-4820, 415-621-1541

Afghan Gems & Minerals Inc, 999 Brannan St, San Francisco, CA, 94103-4938, 415-255-6001S

F Gem & Mineral Society Inc, 4134 Judah St, San Francisco, CA, 94122-1125, 415-564-4230

Si and Ann Frazier, 6331 Fairmont Ave., Suite 306, El Cerrito, CA 94530, No Phone.

Mineral & Gem Society Of Castro Valley Inc, P.O. Box 2145, Castro Valley, CA 94546, 510-881-9430

Patterns Of Light Crystals Gems And Jewelry, , Livermore, CA, 94550, 510-373-0932

West Coast Enterprises, 36273 Exeter Ct., Newark, CA 94560 (Write for catalog)

Vallejo Gem & Mineral Society Inc, 900 Fairgrounds Dr, Vallejo, CA, 94589-4003, 707-644-9764

East Bay Mineral Society, 2506 High St, Oakland, CA, 94601-4836, 510-261-4311

The Rock Shop, 468 Santa Clara Ave., Oakland, CA 94610, 510-893-5440

El Dorado Co. Mineral & Gem Society, P.O. Box 950, Placerville, CA 95667, 530-676-2472

Bills Trading Post & Gem Gallery, 2945 College Ave, Berkeley, CA, 94705-2203, 510-841-1615

Pacific Mineral Exchange, , Boulder Creek, CA, 95006, 408-338-6333

Whimsy Mining Co., Box 171, Paicines, CA, 95043, 408-693-4531 (Benitoite/neptunite)

TOPS A Rock Shop, 1 Polk Street, San Juan Bautista, CA, 95045, 831-623-4441

Santa Clara Valley Gem & Mineral Society, , San Jose, CA, 95118, 408-265-1422

Stockton Lapidary & Mineral Club Inc, 3136 E Anita St, Stockton, CA, 95205-3905, 209-946-0113

Lodi Gem & Mineral Society, 320 N Stockton St, Lodi, CA, 95240-0606, 209-333-7934

Andys Rock Shop, 13409 N Stockton St, Lodi, CA, 95240-6840, 209-334-2404

Dials Rock Shop, 4006 State Highway 140, Catheys Valley, CA, 95306-9705, 209-966-2127

Bruce & Jo Runner Minerals, 13526 South Ave., Delhi, CA 95315, 209-634-6470,

Bills Gems & Minerals, 5004 State Highway 140, Mariposa, CA, 95338-9208, 209-966-6354

California State Mining & Mineral Museum, 5005 Fairgrounds Rd # 1192, Mariposa, CA, 95338-9435, 209-742-7625

Ron's House of Rocks & Lapidary Supply, 600 7th St., Modesto, CA 95350, 209-544-8470

Coogan Gold Co. P.O. Box 1631, Turlock, CA 95381, 209-634-5222

Pearson's U.S. Lapidary, 5523 Hemlock St., Sacramento, CA, 95841, 877-765-7787

Roberts Minerals, P.O. Box 1267, Twain Harte, CA 95383, 209-586-2110

Santa Rosa Mineral & Gem Society Inc, 5690 Old Redwood Hwy, Santa Rosa, CA, 95403-1152, 707-528-7610

Mendocino Coast Gem & Mineral Society, 17300 Franklin Rd, Fort Bragg, CA, 95437-8712, 707-964-1430

Sandy's Rock Shop, 9800 Hw. 53, Lower Lake, California, 95457, 707-350-2248,

Dolphin Dream, 1437 N. Broadway, Walnut Creek, CA, 94596, 925-933-2342

J & M Rock Shop, , Crescent City, CA, 95532, 707-464-2219

The Crystal People, 313 N. Main St., Sebastopol, CA, 95472, 707-823-2663

Crystal Rainbow Rock Shop, 310 Commercial, Nevada City, CA 95959, 916-265-3784

Consolidated Rock & Mineral Shop, 5115 Quinn Rd, Vacaville, CA, 95688-9452, 707-448-5525

Filbys Rock & Gems, 1190 Market St, Yuba City, CA, 95991-3451, 916-673-2181

Randys Rocks And Gemstones, , Redding, CA, 96001, 916-245-0544The Gem Garden, 6120

Dunsmuir Ave., Dunsmuir, CA 96025, 916-235-0649

Three Seas Coins Stamps & Minerals, 152 Morgan Way, Mount Shasta, CA, 96067-2501, 916-926-3566

Gaumer's Rock Shop, 78 Belle Mill Rd., Red Bluff, CA, 96080, 530-527-6166

Bishops Rocks & Gems, 2642 Osborne Ave, South Lake Tahoe, CA, 96150-3168, 916-544-6579
---------------------------------------------------------------


Colorado

Second Nature Colorado/Blue on Black Claim, 2123 County Rd. 1, Cripple Creek, CO, 719-689-5656

The Sunnywood Collection, 12068 E. Amherst Pl., Aurora, CO 80014, 303-368-7497

Mountain Minerals, Int., P.O. Box 302, Louisville, CO 80027, 303-665-0672

Earth-Love Minerals, 3440 Youngfield. St., #353, Wheat Ridge, CO 80033, 303-233-5330

Costigan's Minerals West, 3621 Medallion Rd., Castle rock, CO, 80104, 303-660-9564, Email

Moss Rock Shop The, 3461 S Broadway, Englewood, CO, 80110-2528, 303-789-2558

Artistic Rock & Mineral Creations, 3644 S Galapago St, Englewood, CO, 80110-3421, 303-761-9369

Collector's Stope, 7387 S. Flower St., Littleton, CO 80123, 303-972--376

High Country Minerals, 2625 E 3rd Ave, Denver, CO, 80206-4705, 303-321-6898

*Dave Bunk Minerals, 1441 W 46th Ave, Denver, CO, 80211-2307, 303-477-6897

LJP-Colorado, 1180 York Ave, Canon City, CP 81212-8612

Bill Hayward Minerals, 3286 Quitman St., Denver, CO 80212, 303-455-1977 L&T Creations, 1800

Winfield Dr., Lakewood, CO 80215, 303-232-6451

Desert Gems, 7100 N. Broadway, Suite 1F, Denver, CO 80221, 303-426-4411

Red & Green Minerals, 7595 W. Florida Ave., Lakewood, CO 80227, 303-985-5559

Dan's Used Rocks, 12296 W. Mississippi Ave., Lakewood, CO 303-986-3647

Excellent Selection! Hands of Spirit Gallery, 65 Betasso Rd., Boulder, CO, 80302, 303-541-9727

Crystal Galleries, 1302 Pearl St, Boulder, CO, 80302-5210, 303-444-2277

Storm Mountain Minerals, P.O. Box 7268, Boulder, CO 80306, 303-442-7376

A Nice Find, P.O. Box 19453, Boulder, CO, 303-661-0696

Egger's Lapidary, 16950 S. Golden Rd., Golden, CO, 80221, 303-270-3952

Keystone Minerals, 13030 W. 6th Pl., Golden, CO 80401, 303-233-4188

Georgetown Rock Shop, 501 6, Georgetown, CO, 80444, 303-569-2750

Gypsum Rose Minerals & Fossils, 1800 Miner, Idaho Springs, CO, 80452, 303-567-2219

The Rock Hut, 706 Harrison Ave, Leadville, CO, 80461, 719-486-2313

The Ore Cart Rock Shop, 119 W Elkhorn Ave, Estes Park, CO, 80511, 970-586-3577

Pikes Peak Rock Shop, 4495 Fountain Ave, Cascade, CO, 80809-1021, 719-684-9472

Dicks Rock Shop, 7310 S US Highway 85-87, Fountain, CO, 80817, 719-390-7788

Claim Jumpers Rock Shop, 14 Arcade, Manitou Springs, CO, 80829-1705, 719-685-5136

Pikes Peak Rock Shop, 431 Forest Edge Rd, Woodland Park, CO, 80863-2499, 719-687-5423

Glacier Peak Art, Gems & Minerals, 1672 S. 21st St., Colorado Springs, CO 80904, 719-442-6630

Mineral Adit Rockshop The, 2824 W Colorado Ave, Colorado Springs, CO, 80904-2444, 719-475-1557

Ackley's Rocks & Stamps, 3230 N. Stone Ave., Colorado Springs, CO 80907, 719-633-1153

El Carma Rock Shop, , Canon City, CO, 81212, 719-275-6129

Treasure Mountain Mineral & Rock Shop, 218 Maroon Av, Crested Butte, CO, 81224, 970-349-6296

The Rock Doc at Prospectors Village, 17897 US Hwy 285, Nathrop, CO, 81239, 719-539-2019

Charlies Rock Shop, 620 J St, Penrose, CO, 81240-9723, 719-372-0117

Mineralab, 695 E. 5th Ave. G, Durango, CO 81301, 800-749-3101, 970-247-1022

Magma Minerals, Box 2322, Durango, CO 81302, 970-259-0747

Mount Sneffles Rocks & Minerals, 450 Main, Ouray, CO, 81427, 970-325-4652

Columbine Mineral Shop, 633 Main, Ouray, CO, 81427, 970-325-4345

Silverton Minerals Gifts, 1245 Greene, Silverton, CO, 81433, 970-387-5702

Genesis Epoch, 2417 Sandridge Ct., Grand Junction, CO 81503, 907-242-3134 The Rock Pick, 3154

Lakeside Dr., Suite 108, Grand Junction, CO, 81506, 970-241-6908

G G & Ms Rock Shop, 1030 O Rd, Mack, CO, 81525-9790, 970-858-0561

High Country Gems & Minerals, 311 8th St, Glenwood Springs, CO, 81601-3409, 970-945-8137

Herkimer's Crystals, 143 E. Meadow Dr., Vail, CO, 81657. 970-476-5050
--------------------------------------------------------


Connecticut

Mineral Movies, P.O. Box 541, East Haddam, CT, 860-985-6321. Email

Stonetrust, Inc., Canton, CT, 860-693-9169. Email

Essence of The Earth, 1783 Meriden-Waterbury Tpk, Southington, CT, 06489, 860-628-7906

Stone Age Rock Shop, 17 Kibbe Dr., Somers, CT, 06071, 203-749-3807

Russ Behnke, 161 Sherman Ave., Meriden, CT, 06450-3352, 203-235-5467, Email

Yancy Minerals Inc, 1768 Lichfield Tnpk, Woodbridge, CT, 06525, 203-624-8067

Mother Earth Gallery & Mining Co., 806 Federal Rd., Brookfield, CT 06804, 203-775-6272 ( Kid's mine, too)
-------------------------------------------------------


District of Columbia

Rocks & Minerals, 1319 18th St NW, Washington, DC, 20036-1802, 202-296-6267
--------------------------------------------------------


Florida

C J Mineral & Bead, 37 Corbin Ave, Ormond Beach, FL, 32174-6333, 904-677-3242

Rock And Crystal Shop The, 3809 W Bobe St, Pensacola, FL, 32505-4812, 904-456-9605

Orlando Rock And Gem, 400 S Orlando Ave, Winter Park, FL, 32789-3684, 407-647-5566

Merry Artists Rock Shop, 1996 Kentucky Ave, Winter Park, FL, 32789-4531, 407-644-7310

Collectors Cabinet The, 113 5th Ave, Indialantic, FL, 32903-3174, 407-676-4919

Ye Olde Rock Shoppe, 1425 S 30th Ave, Hollywood, FL, 33020-5635, 954-920-9541

Crystal Cave Rock & Gem Shop Lapdary Equp, 6810 Stirling Rd., Davie, FL, 33024, 954-962-3014

Maddies World Rock Shop, Cauley Square, Homestead, FL, 33030, 305-257-3769

Art by God, 3705 Biscayne Blvd., Miami, FL 33137, 305-573-3011, 800-940-4449

Paga Mine Fine Minerals, 3511 W. Commercial Blvd., Ft. Lauderdale, FL, 33309

Jewelry & Minerals Of Florida, 1071 NW 53rd St, Fort Lauderdale, FL, 33309-3161, 954-493-9345

Mountain Mark Trading, 268 W. 31st St., Ft. Lauderdale, FL 33315, 305-525-6310, 800-346-3691

Gem & Mineral Society Of The Palm Beaches Inc, , West Palm Beach, FL, 33406, 561-655-9298

Mineral Kingdom, 20660 N. W. 27th Ave., Boca Raton, FL, 33434 407-477-8075

Earth Presents, 9298 E. Boca Gardens Pkwy, Boca Roton, FL 33496, 407-488-2204

Wally's Natural Wonders, 6007 N. Armenia Ave., Tampa, FL, 813-874-3131

Tampa Bay Mineral & Science, , Tampa, FL, 33602, 813-684-2039

Bug A Ruby Crystal & Rock Shop, 4710 Land O Lakes Blvd, Tampa, FL, 33602, 813-996-9533

Suncoast Gem & Mineral Club, 5494 65th Way N, Saint Petersburg, FL, 33709-1626, 813-541-1291

The Village Gem Shop, 4890 122nd Ave., N., #6, Clearwater, FL, 33762, 727-566-2586

Gem & Mineral Shoppe The, 106 Burns Ln, Winter Haven, FL, 33884-1152, 941-318-9611

Naples Fossil Gem & Mineral Company Inc, 1200 5th Ave S, Naples, FL, 34102-6452, 941-262-7484

Harris Wm Rock Shop, 1118 Snead Ave, Sarasota, FL, 34237-2932, 941-366-6608

Rough Cut Gems, 1537 N Highland Ave, Clearwater, FL, 34615-2720, 813-442-2612

Underground Rocks & Gems, 5100 Ulmerton Rd # 8100, Clearwater, FL, 34620-4036, 813-535-9919

B & C Gems & Minerals, 1655 SW Martin Hwy, Palm City, FL, 34990-3369, 561-286-1848
----------------------------------------------------------


Georgia

Jendon Minerals, P.O. Box 6214, Rome, GA 30162, 706-291-4618, Jendon6214@aol.com

William Weinman Mineral Museum, 51 Mineral Museum Dr., White, GA 30184. (30 mi. N. of Atlanta on Hwy. 411)

Great South Gems & Minerals, Inc., 38 Bond Dr., Ellenwood, GA, 30294, 888-933-4367

Wonderments, 87 Laurel Forest Cir., Atlanta, GA 30342, 404-2374512

By The See Rock Shop & Mining, St Hwy 197 N, Clarkesville, GA, 30523, 706-947-3022

Panhandlers Rock Shop & Gifts, Hwy 75 N, Cleveland, GA, 30528, 706-219-1694

Alpine Valley Rock Shop, Alpn Vly Cmplx, Helen, GA, 30545, 706-878-3261

Golden Isle Gem & Mineral Club, 2402 Norwich St, Brunswick, GA, 31520-5316, 912-267-7300

Horne's Gem And Rock Shop, 432 N Okefenokee Dr, Folkston, GA, 31537-2214, 912-496-7272

HawaiiRock Island Gallery, 16 Furneaux Lane, Hilo, HI 96720, 808-961-3052, Email: banana.morgen@hawaiiantel.net

ERTASHAR Pacific Minerals, c/o Eric H. De Carlo, 2654 Lowrey Ave., Honolulu, HI 96822, 808-956-6473
-----------------------------------------------------


Idaho

Lemhi Rock Shop, 1155 Yellowstone Ave, Pocatello, ID, 83201-4369, 208-237-5273

Devines Antiques & Rock Shop, , Challis, ID, 83226, 208-879-2263

Kounting House, 503 W. 8th, Jerome, ID, 83338, 208-324-3670 Rock-N-Gifts, 942 S. Lincoln, Jerome, ID, 83338, 208-324-8860

Paul Rock Shop, 750 W 100 S, Paul, ID, 83347-8636, 208-438-5945

Genes Rocks & Gems, 1824 S Kimball Ave, Caldwell, ID, 83605-4827, 208-459-1839

Triple A Rock Shop, 408 East Carol St., Nampa, ID 83687, 208-461-3333 (shop), 208-466-5706, Email

Earth Lights Minerals & Gifts, 6481 Fairview Ave., Boise, ID 83706, 208-373-7776

RnJ's Creations and Rock Shop, 6055 Government Way, Suite 5, Coeur d'Alene, ID 83815, 208-762-4950

J Rs Rock Shop, 1006 E 3rd Ave, Post Falls, ID, 83854-9567, 208-773-2474

Spirit Lake Rock Shop, 312 N 5th Ave, Spirit Lake, ID, 83869, 208-623-2562
--------------------------------------------------------


Illinois

Dorothys Crystal Rock Shop, 31160 N Rt 45, Libertyville, IL, 60048, 847-816-9153

Daves Down To Earth Rock Shop, 704 Main St, Evanston, IL, 60202-1702, 847-866-7374

Lapidary Art Rock Shop & Gifts, 7045 Cermak Rd, Berwyn, IL, 60402-2136, 708-788-1409

Jeris Rock Shop Rocks, 16142 Cicero Ave, Oak Forest, IL, 60452-4118, 708-687-5767

Rosleys Rocks & Gems, 2153 N Sheffield Ave, Chicago, IL, 60614, 773-868-4367

Rosley's Rocks and Gems, 2257 W. Eastwood Ave., Chicago, IL, 60625, 772-561-7200

Sanctuary Crystals, 5524 Cal-Sag Rd., Alsip, IL, 60658, 708-396-2833Ker Ree Jewelry & Rock Shop, 2124 N State St, Belvidere, IL, 61008-1959, 815-544-2772

The Gem Shop, 110 W. Main St., Rockton, IL, 61072, 815-6246667

Roger's Rock Shop, 400 N Monmouth St, Good Hope, IL, 61438, 309-456-3800

Nature Heaven, 1524 N. 8th St., Pekin, IL, 309-353-7625

Salger Paul Hobby Rock Shop, 6143 Richfield Rd, Red Bud, IL, 62278-4633, 618-282-2706

Rustys Rock Shop, 4106 N Buckingham Dr, Decatur, IL, 62526-1777, 217-877-7122

Rustys Rock Shop, 2129 E Damon Ave, Decatur, IL, 62526-4750, 217-429-4456
--------------------------------------------------------


Indiana
Spencer Lapidary, 9033 W. 1000 N, Elwood, IN 46036. 317-552-0784

All My Relations Gift Shop, 1008 Main St., Speedway, IN, 46224, 317-227-3925

Jox Rox Rock Shop, 4825 N Franklin Rd, Lawrence, IN, 46226-2006, 317-542-8855

Clear Creek Rock Shop, 3344 W. 800 N. Huntington, IN 46750, 219-344-1522Bills Rock Shop, Sr 25, Rockfield, IN, 46977, 219-686-2750

Eric's Rocks and Such, 2110 1/2 Plaza Dr., P.O. Box 133, Leavenworth, IN 47137, 812-739-2358

Bennett's Antique & Rock Shop, 1400 N Walnut St, Hartford City, IN, 47348-1342, 765-348-1535

Hinshaw Rock N Gems, , French Lick, IN, 47432, 812-936-7255
---------------------------------------------------------


Iowa

Crystal Palace Rock Shop, 2215 E 12th St, Davenport, IA, 52803-3708, 319-322-3627

Grand River Gemstone & Lapidary, 1228 Washington St, Davenport, IA, 52804-4058, 319-322-4911
-----------------------------------------------------------


Kansas

Summit's Steps Minerals, 721 8th St., Baldwin City, KS, 66006, 785-393-4006

Amazing Rocks & Jewelry, 9904 College Blvd., Overland Park, KS, 66210, 913-663-4367

Lindsays Minerals & Gifts, 1256 SW Western Ave, Topeka, KS, 66604-1165, 913-233-9456

Lentz Lapidary & Rock Shop, 11740 S Oliver St, Mulvane, KS, 67110-9477, 316-777-1372

Ebersole Lapidary Supply, Inc., 5830 W. Hendryx, Wichita, KS 67209, 316-945-4771

Jayhawk Rock Shop, 615 S 4th Ave, Hill City, KS, 67642-2112, 913-674-2333Scott Williams Mineral Co, P.O. Box 48, Oberlin, KS, 67749.
--------------------------------------------------------


Kentucky

True Rock Shop, 629 Hanson St, Madisonville, KY, 42431-1305, 502-825-1989
--------------------------------------------------------


Louisiana

Johnnys Minerals, 2312 David Dr, Metairie, LA, 70003-4504, 504-455-7101

New Orleans Gem & Lapidary, 520 Saint Philip St, New Orleans, LA, 70116-3336, 504-524-9595

Absolutely Amazing Ancient Earth Treasures, 8227 Oak St., New Orleans, LA, 70118, 504-314-8227

Baldwin Taylor Hardware & Rock Shop, 4301 Jefferson Hwy, Jefferson, LA, 70121-1598, 800-833-8704

Southern Fossil & Mineral Exchange, 2045 Magazine St, New Orleans, LA, 70130-5017, 504-523-5525

Southern Fossil & Mineral Exchange, 2045 Magazine St, New Orleans, LA, 70130-5017, 504-523
--------------------------------------------------------


Maine

E H Minerals, 34 Moody St., Saco, ME 04072, 207-284-6206

Dan & Pats Rock Shop, 837 Ocean Ave, Portland, ME, 04103-4702, 207-774-1738

Mineral Collector, 178 N. Main St., Bryant Pond, ME 04219, 207-665-2759

Poorspector's Rockshop, Rte. 1 Box 445, Buckfield, ME, 04220, 207-336-2888

Maine Mineral, Ron Larivee, 569 Main St., Lewiston, ME, 04240, 207-782-0279

Coos Canyon Rock & Gift, 472 Swift River Rd. (Rt. 17), Byron, ME 04275, 207-364-4900, Email

Winthrop Gem & Mineral Shop, Rt. 202 or Case Rd., East Winthrop, ME, 04343, 207-395-4488

Bennetts Gems & Jewelry, 45-D Searsport Ave, Route 1, Belfast, ME, 04915, 207-338-5530
----------------------------------------------------------


Maryland

Mahalo Minerals, Takoma Park, MD

International Gem Mineral & Jewelry Show Inc, 120 Derwood Cir, Rockville, MD, 20850-1264, 301-294-1640

Outback Lapidary/Appalachian Mineral Co., 1726 Angleside Dr., Fallston, MD 21047, 410-877-3889
------------------------------------------------------


Massachusetts

Aloha Gems & Minerals, 7 Maple St, Monson, MA, 01057-9725, 413-267-5124

Educational Rocks & Minerals, 408 N Farms Rd, Northampton, MA, 01060-4513, 413-586-6068

The Thurstons, 385 Central St., Boylston, MA 01505, 508-869-2435

JNL Minerals, 3 Crescent St., Shrewsbury, MA 01545, 508-842-8498

The Stoneworks, 11 Pleasant ST., Dunstable, MA, 01827, 508-649-6613

Geoclassics Gems & Minerals, 7 Faneuil Hall Market Pl, Boston, MA, 02109-1649, 617-523-6112Taryn's Mirror, 606 Main St., Hyannis, MA 02601

Natures Own, 11 Fred M Roddy Ave, Attleboro, MA, 02703, 508-399-8690
--------------------------------------------------------



Michigan

Mother Earth's Stone Castle, 405 W. Monroe St., Dundee, MI, 48131, 734-529-2079

Mostley Minerals, 1405 Hewett Dr, Ann Arbor, MI, 48103-4644, 313-930-1737

Rock Shoppe, 6275 Gotfredson, Plymouth, MI, 48170, 734-455-5560

B&T Rock Shop, 1404 State St., Bay City, MI 48706, 517-684-0081

The Rockefellers, Inc., 12290 Jackson Rd., Chelsea, MI 48818, 313-475-0101

Northern Michigan Nature Works, 115 S. Michigan Ave, Big Rapids, MI 49307, 231-796-1821, Email

Bay Shore Rock Shop, 3005 Memorial Dr, Muskegon, MI, 49445-2123, 616-744-2071

Aletas Rock Shop, 1515 Plainfield Ave NE, Grand Rapids, MI, 49505-4922, 616-363-5394

Silk Stone Studios, 2515 Alpine, NW, Grand Rapids, MI, 49544, 616-363-2090

Dingers Rock Shop, 6577 SE Torch Lake Dr, Alden, MI, 49612-9521, 616-377-4098

C & M Rock Shop, 13236 US Highway 31, Beulah, MI, 49617-9762, 616-325-2309

Davidson Rock Shop, 531 Randolph St, Traverse City, MI, 49684-2295, 616-946-4520

The Oldest Antiques on Earth, 7946 U.S. Hwy 2, Rapid River, MI 49878

Keweenaw Gem & Gift Inc, 1007 West Memorial Drive, Houghton, MI, 49931, 800-554-8447

Red Metal Minerals, #75 Hwy, 26, Tamarack City, MI 49934, 906-296-9440
--------------------------------------------------------



Minnesota

Costigan's Minerals, 2190 8th Ave, Newport, MN 55055, 612-459-3439

Monarch Gifts, 405 Division St. S., Northfield, MN 55057, 507-663-7720

Uncle Toms Antique Mall Rock Shop, Hwy 14 West, Owatonna, MN, 55060, 507-451-2254

ZRS Fossils and Gifts, 3018 Lyndale Ave. S., Minneapolis, MN, 55408, 612-824-1068

The Enchanted Rock Garden, 6445 Lyndale Ave. South, Richfield, MN, 55423, 612-866-1140

Tri-County Rock Shop, 10588 Central Ave NE, Blaine, MN, 55434-3711, 612-784-0597

Hoffs Rock Shop, 50638 County 36, Bemidji, MN, 56601, 218-751-1469

Everything Agate, 1451 Ossego Rd. SW, Nisswa, MN, 56468, 218-963-4816

Dons Minerals, RR, Menahga, MN, 56464, 218-346-3840
-----------------------------------------------------------


Mississippi

Southern Lapidary, P.O. Box 312, Grewwnwood, MS 38935, 601-453-6680
------------------------------------------------------


Missouri

B & J Rock Shop, 14744 Manchester Rd, Ballwin, MO, 63011-3706, 314-394-4567

Dan & Jill Weinrich, 16216 Copperwood Ln, Grover, MO, 63040, 314-230-8323, weinrich@aol.com

Gateway Rock And Gem, 912 S Main St, Saint Charles, MO, 63301-3446, 314-940-1533

Hollow Geode Mine, Tr. 2, Box 23A, Rever, MO 63465, 816-754-6347. (Mine located in St. Francisville, MO. Call!)

Sheffler Rock Shop, Hwy 27/61 Avenue of the Saints, 2 mi. So. of Wayland (Keokuk Exit), RR#1 Box 171, Alexandria , MO, 63430, 660-754-1134

Brass Rooster Minerals, Interstate 44, Exit 189, Rolla, MO. 314-368-37377

KCGemdude Lapidary and Jewelry, Blue Springs, MO Email
-------------------------------------------------------


Montana

Tyson Rock Shop, Box 263, Gardiner, MT 59030, 406-848-7664

Little Montana Rock Shop, Hwy 87 P O Box 7, Grass Range, MT, 59032, 800-932-0434

Rocks 'n Fossils, 1 mile So, Hwy. 89, Livingston, MT, 59047. 406-222-6725

Crystals Gems & Dreams, 928 Broadwater Ave, Billings, MT, 59101-2700, 406-254-2863

Hobby Cab Rock Shop, 1912 Old Hardin Rd, Billings, MT, 59101-6554, 406-256-5044

Mountain Wildcraft Lapidary, P.O. box 22591, Billings, MT, 59104, 406-656-5749

Agate Shop, 925 NW Bypass, Great Falls, MT, 59404, 406-453-7027

Gold Fever Rock Shop, 5360 Castles Rd, Helena, MT, 59601-6423, 406-227-8989

Earths Treasures, 8695 Huffine Lane, Bozeman, MT 59715, 406-586-3451 (10 A.M. Opening)

Crystal Imports, 500 S. Russell, Missoula, MT 59801, 406-549-8907

Shane Norton's Rock Shop, 36593 Hw. 93, St. Ignatius, MT 59865, 406-745-4504

Kehoe's Agate Shop, 1020 Holt Dr., Bigfork, MT 59911, 406-837-4467

Junction Rock Shop, Jct. of Hwy 2 and Hwy 206, 7309 Hw. 2 E., Columbia Falls, MT, 59912, 406-892-4944
-------------------------------------------------------


Nebraska

Bower Rock Shop, 506 Gerrard Ave. Monroe, NE, 68647, 402-495-2583
---------------------------------------------------------


Nevada

*Jewelry & Minerals Of L V, 420 E Sahara Ave, Las Vegas, NV, 89104-1919, 702-733-7166

Gem & Rock Shop, 6840 Reno Hwy, Fallon, NV, 89406-9359, 702-867-3993

Highway 50-95 Rock Shop, 4261 Reno Hwy, Fallon, NV, 89406-9374, 702-867-2144,

EmailReno Gem And Mineral Society, 480 S Rock Blvd, Sparks, NV, 89431-5547, 702-356-9864

Comstock Rock Shop, 20 S C, Virginia City, NV, 89440, 702-847-0383

Stone Age Quarry, 81 South C. St., Virginia City, NV, 89440, 775-847-0706

Mill Street Rocks, 3791 Mill St., Reno, NV, 89502, 775-323-1919, Tue-Sat 11-6Stone Age Quarry, 2002

Harvard Way, Reno, NV, 89502, 775-827-1232

StoneAge Trading Co., POB. 60404, Reno, NV, 89506Whole Earth Minerals, P.O. Box 50008, Reno, NV, 89513, 702-786-6432
---------------------------------------------------------


New Hampshire

The Crystal Connection, 2 Sandy Lane, Hooksett, NH 03106, 603-483-8343 (Call First!!!)

A Broader Concept Mineral, Crystal & Fossil Shop, 28 By-Pass, Hooksett, NH 03106, 603-641-1323

Alpine Valley Gems & Minerals, 221 Main St., Gorham, NH 03581, 603-466-5198

New Hamphire Mineral Shop, 623 Meany Rd., Charlestown, NH, 03603, 603-826-5154

Donderos Rock Shop, Main, North Conway, NH, 03860, 603-356-5359

Toad Hollow Gallery & Handcrafted Jewelry, 2517 Wakefield Rd. (Rt. 153), Wakefield, NH 03872, 603-522-6529
--------------------------------------------------------

New Jersey

Sunset Beach Gem, Cape May, NJ, 609-884-7079

Bartky Mineralogical Enterprises Inc, 375 Walnut St, Livingston, NJ, 07039-5011, 800-523-7625

H. Obodda, Box 51, Short Hills, NJ 07078, 201-467-0212

Sterling Hill Mining Museum, 30 Plant St., Ogden, NJ, 07439, 201-209-7212

Gene Paul Minerals, 52 Park Ave, Park Ridge, NJ, 07656-1277, 201-391-5955

The Gem Mine, 495 Cedar Ln, Teaneck, NJ, 07666-1710, 201-836-4848

Magical Rocks, 19 Monmouth St., P.O. Box 464, Red Bank, NJ 07701, 908-7411293

Rock & Gem Store The, 1 Olde Lafayette Vlg, Lafayette, NJ, 07848-3200, 201-579-1666

Rock Gem & Shell Shop, 287 S Main St, Barnegat, NJ, 08005-2301, 609-698-7170

International Gems & Minerals Inc, 110 Broad St, Flemington, NJ, 08822-1604, 908-788-6770

Gary's Gem Garden, 404 R. 70, Cherry Hill, NJ, 08034, 856-795-5077

Gem-Fare, P.O. Box 213, Pittstown, NJ 08867, 908-806-3339

Willis' Earth Treasures, 309 Prospect St., Stewartsville, NJ 08886, 908-859-0643

Highland Rock & Fossil, 509 Raritan Ave., Highland Park, NJ 08904, 908-819-7900
---------------------------------------------------------


New Mexico

Carousel Gems & Minerals, 1202 Perion Dr., Belen, NM 87002, 505-864-2145

South western Mineral, 7008 Central SE, Albuquerque, NM 87108, 505-268-6778

Liberty Gem & Minerals, 1313 San Mateo Blvd NE, Albuquerque, NM, 87110-6428, 505-268-1800

Kohls Rock Shop, 942 Eubank Blvd NE, Albuquerque, NM, 87112-5308, 505-298-6536

Mineral & Fossil Gallery Of Santa Fe, 127 W San Francisco St, Santa Fe, NM, 87501-2111, 505-984-1682
-----------------------------------------------------------



New Mexico

Mineral Museum, New Mexico Tech Campus, Socorro, NM 87801, 505-835-5140

Elvires Rock Shop & Saw Shop, E Hwy 60, Magdalena, NM, 87825, 505-854-2324

Bill's Rock Shop, P.O. Box 104, Magdalena, NM, 87825, 505-854-2236

Blanchard Rock Shop, Hwy. 380, Milemarker 30, Bingham, NM 87832, 505-423-3235

Border Rock Shop, 980 W Railroad, Lordsburg, NM, 88045, 505-542-3724

E & J Rocks & Gems Jwlr, 410 S Turner St, Hobbs, NM, 88240-8444, 505-393-2405

M & R Gem & Minerals, 700 1st St # 700-A, Alamogordo, NM, 88310-6527, 505-434-6877
-----------------------------------------------------------



New York

Crystal Legends Inc, 124 W 24th St, New York, NY, 10011-1904, 212-727-0304

Crystals World, 90 W Houston St, New York, NY, 10012-2552, 212-228-1803

Crystal Gardens, 21 Greenwich Ave, New York, NY, 10014-3564, 212-727-0692

Astro Gallery of Gems, 185 Madison Ave, New York, NY 10016, 212-889-9000, 800-394-ASTRO

Radiant Gems And Minerals Inc, 608 5th Ave, New York, NY, 10020-2303, 212-307-1300

*Os Brasileiros Inc, 140 W 69th St, New York, NY, 10023-5107, 212-787-1787

Crystal Store West, 506 Amsterdam Ave, New York, NY, 10024-3949, 212-724-6850

*John Betts Fine Minerals, 215 W. 98th St., New York, NY, 10025, 212-678-1942

Nice Minerals Inc, 22 W 48th St, New York, NY, 10036-1803, 212-827-0234

*Conklin Lawrence H, 2 W 46th St, New York, NY, 10036-4502, 212-382-0304

Oriental Stones & Minerals Inc, 2 W 46th St, New York, NY, 10036-4502, 212-221-8597

Treasures & Gems, 250 E 90th St, New York, NY, 10128-3534, 212-410-7360

Excalibur Mineral Co., 1000 N. Division St., Peekskill, NY 10566, 914-739-1134

*De Trin Mineral Co., 14-50 128 St., College Pt., NY 11356, 718-886-3232

Aurora Mineral Corp., 679 S. Ocean Ave., Freeport, NY, 11520, 516-623-3800

Oceanside Gem Imports, P.O. Box 222, Oceanside, NY 11572, 516-678=3473

Long Island Rock Shop, 104 Bedford Ave N, Bellmore, NY, 11710-3527, 516-868-4853

Trans Union Gems & Minerals, 7 Tee Ln, Port Jefferson, NY, 11777, 516-331-4107

Fisher Ok Rock Shop, US Rt 9, Kinderhook, NY, 12106, 518-758-7657

Many Facets Rock Shop, 438 New Karner Rd, Albany, NY, 12205-3810, 518-456-0678

Rocko Minerals & Jewelry, , Margaretville, NY, 12455, 914-586-3837

Mountaindale Rocks, #1 Church St., Mountaindale, NY 12763, 914-434-3045, Email

*Wilensky Stuart & Donna, 203 Sullivan St, Wurtsboro, NY, 12790-7960, 914-888-4411

Geologic Desires, #2982 St. Rd. 11B, Nicholville, NY, 12965, (By appointment Only)

Twin Crystal Rock Shop, 43 Broadway, Saranac Lake, NY, 12983-1703, 518-891-2170

Adirondack Gem & Rock Shop, 64 Petrova Ave, Saranac Lake, NY, 12983-2109, 518-891-3390

Mineral Showcase, Rutland PL., Watertown, NY, 13601, 315-788-6097 (Appointment Only)

Lone Prospector Minerals, 148 Rowley St., Gouverneur, NY 13642, 315-287-1655

Hal Bach's Rock Shop, 137 Marne Rd., Cheektowaga, NY 14215, 800-568-6888
----------------------------------------------------------



North Carolina

Milita Rock & Gem Shop, 3451 Old NC Highway 49, Asheboro, NC, 27203-1930, 910-629-7555

Rockcrafters Gem & Mineral Shop, 107 Harden St., Graham, NC, 27253-2104, 336-228-6665

Laurie's Rock Shop, 268 Cedar Springs Rd., Lexington, NC, 27292, 336-859-3471, Email

Geo Gems, 2106 Patterson St, Greensboro, NC, 27407-2532, 910-294-2111

Franklin County Gold & Gem Mine, RR 5, Louisburg, NC, 27549-9805, 919-496-1298

Beach Gems Stones Jewlry Findngs, Pirates Quay Mall, Nags Head, NC, 27959, 919-441-7109

Broad River Gems & Mining Co., 218 River Landing, Rutherford, NC, 28139, 828-286-1220

R's Gems & Rocks, 4929 Bragg Blvd, Fayetteville, NC, 28203, 910-861-1611

Ocean Isle Gem Mine, 6740 Beach Dr SW, Ocean Isle Beach, NC, 28469-4712, 910-579-8007

Sheer Bliss/Little Bear Rock Shop, Banner Elk, NC, 28604, 704-898-9800

Magic Mountain Gem Mine, 1675 Nc Highway 105 S, Boone, NC, 28607-7807, 704-265-4367

Hiddenite Gems/Emerald Hollow Mine, Sr 1001, Hiddenite, NC, 28636, 704-632-3394

Webb's Rock Shop, 39 Coffey Rd., Linville, NC 28646

Little Jewelry Gem & Lapidary, 106 E D St, Newton, NC, 28658-3317, 704-464-0171

Quality Gems Lapidary, 314 Main Avenue Dr NE, Taylorsville, NC, 28681-2216, 704-632-6891

Lost Province Rock Shop, 1016 Big Branch Rd, Sugar Grove, NC, 28692, 704-297-3028

New Earth, 118-E Cherry St., Black Mountain, NC, 28711, 828-669-3813

Ernies Western Carolina Mtn Rock Shop, 17 Rosman Hwy, Brevard, NC, 28712-4117, 704-884-2241

Universal Rock Shop, P.O. Box 143, Columbus, NC 28722, 828-894-3389

Chimney Rock Shop, , Chimney Rock, NC, 28720, 704-625-4126

Gem & Mineral Society Of Franklin The, Phillips St, Franklin, NC, 28734, 704-369-7831

Source Rock Shop The, Hwy 441 S, Franklin, NC, 28734, 704-524-6511

Burglens Natural Gems, 5868 Sylva Rd, Franklin, NC, 28734-2240, 704-524-9171

Ruby City Gems & Minerals, 44 E Main St, Franklin, NC, 28734-3033, 704-524-3967

Rainbow Gems & Minerals, 2142 Georgia Rd, Franklin, NC, 28734-7328, 704-524-9897

The Gallery Of Gems & Minerals, 2754 Georgia Rd, Franklin, NC, 28734-7336, 704-524-8931

Village Trader Rock & Gem North, 1515 Bryson City Rd, Franklin, NC, 28734-8861, 704-524-9600

Linville Mountain Gem Shop, N Hwy 221, Marion, NC, 28752, 704-756-7206

Blue Ridge Rock & Gem Shop, , Spruce Pine, NC, 28777, 704-765-7981

Emerald City Gem Shop, , Spruce Pine, NC, 28777, 704-765-0134

Gem Mountain Gemstone Mine, , Spruce Pine, NC, 28777, 704-765-6130

Aspect Minerals Inc, 710 Highway 226 S, Spruce Pine, NC, 28777-3428, 704-765-8022

Colburn Gem & Mineral Museum, 2 S Pack Sq, Asheville, NC, 28801-3521, 704-254-7162

Silver Armadillo, 40 Westgate Pkwy, Asheville, NC 28806, 704-253-3020Lost

Province Rock Shop, 12 mi. West of Boone, NC, 704-297-3028
-----------------------------------------------------------



North Dakota

J T Rock Shop, 1014 4th Ave N, Fargo, ND, 58102-4396, 701-237-3729

Muggli Rock Shop & Museum, 701 Oak Ave., E., Glen Ullin, ND 58631, 701-348-3897
------------------------------------------------------------



Ohio

Earth 'n Stone, Trader's World Flea Market, I-75 & St. Route 63, Monroe, Ohio. 9-5 Sat. & Sun. 513-895-5269

Clif's Rock & Gem Shop, 2491 Cambridge Rd., Coschocton, OH 43812, 740-622-1512 (Appointment Only)

M & E Rocks, 848 Wright Ave., Toledo, OH, 419-382-1089 (Appointment Only)

What on Earth, 6250 Busch Blvd., Columbus, OH 43229, 614-436-1458 (7 Days/week)

Toledo Gem & Rockhound Club Inc, 5403 Elmer Dr, Toledo, OH, 43615-2803, 419-531-8124 (A club, not a shop)

Noema Rock & Gem Shop, 1788 Mill St, Austinburg, OH, 44010, 216-275-3211

Hal's Rock Shop, 4694 Spencer Cir., Geneva, OH 44041

Maple Ridge Nursery and Discovery Den, 7220 Ravenna Rd., Concord, Ohio, 44077, 440-354-1525

Rocks-N-Chips, 7952 Lorain Ave., Cleveland, OH, 44102, 216-281-0624

Virgin Valley Sales, 684 Quilliams Rd., Cleveland Hts., OH, 44121, 216-381-9003

East-West Development, 5380-B Naiman Pkwy., Solon, OH 44139, 216-349-1433 (Wholesale)

Mike's Minerals, 6832 Paxton Rd., Boardman, OH 44512, 330-726-9529, Email Mike

Sandy's Rock Shop, 5370 Clarkins Dr, Youngstown, OH, 44515-1140, 330-793-3024

V Rock Shop, 7061 Sunset Strip Ave NW, Canton, OH, 44720-7078, 330-494-1759, VROCKSHOP@aol.com

Old Timers Rock Shop, 2410 Robertson Ave, Cincinnati, OH, 45212-3411, 513-531-4670

Gold Bug Rock Shop, 1669 Westwood Ave, Cincinnati, OH, 45214-1552, 513-251-2300

Open Adit Rocks and Minerals, P. O. Box 191, Tipp City, OH, 45371, 937-669-3104
----------------------------------------------------------



Oklahoma

Traywick's Rock Shop, 402 E Central Blvd, Anadarko, OK, 73005-3620, 405-247-5176

Lees Rock Shop, , Bradley, OK, 73011, 405-462-7346Tepee Rock Shop, S Of City, Davis, OK, 73030, 405-369-2920

Dells Jewelry & Rock Shop, 19932 E Pine St, Catoosa, OK, 74015-3309, 918-266-2192

Crystal Rock Shop, 610 E. Main St., Henryetta, OK, 74437, 800-868-3562
----------------------------------------------------------


Oregon

Little Valley Rock Shop, Harper, OR, 541-358-2685

Gabriel Gem & Lapidary Supply, 10725 SE Orient Dr, Boring, OR, 97009-8066, 503-663-6130

Pier Avenue Rock Shop, 5845 Pier Ave., Tierra Del Mar, OR, 97112, 503-965-6334 (voice), 503-965-7456 (fax)

Ed's House of Gems, Ltd., 7712 N.E. Sandy Blvd. Portland, OR, 97213, 503-284-8990

*Good Earth Minerals, Salem, OR, 97303, 503-390-0302

Burnett Petrified Wood, 37420 Sodaville Cutoff Rd., Lebanon, OR, 541-259-3320

White's Lapidary, 530 Minnesota, Lebanon, OR, 541-259-1529

Ramrock Shop, 42961 Green Mountain Dr., Lebanon. OR 97355, 541-451-3649

Five Elements Gem and Mineral, 2100 W. Broadway #19, Eugene, OR 97402, 541-343-2201

Nelson the Rocky-Feller, 1509 W. 6th Ave., Eugene, OR, 97402, 541-687-8100

Roxy Ann Gem & Mineral Society Inc, 2002 Scenic Ave, Central Point, OR, 97502-1655, 541-664-6081

Crystal Kaleidoscope, 18435 Redwood Hwy (Hwy 199), Selma, OR, 97538, 541-597-4300

Shady Cove Rock & Gift Shop, 22074 Hwy 62, P.O. Box 555, Shady Cove, OR 97539, 541-878-3433

Hi Desert Craft Rock Shop, 244 N M St, Lakeview, OR, 97630-1239, 541-947-3237

Cornucopia Crystals, 841 NW Bond St., Bend, OR, 541-318-1801

House of Rocks, 67288 Hwy. 20 W, Bend, OR, 97701, 541-385-5200

Highland Rock & Gem, 1316 Hines Blvd, Burns, OR, 97720-2303, 541-573-5119

Richardson's Recreational Ranch, Gateway Route 440, Madras, OR 97741, 800-433-2680

Merle's Treasure Chest of Gems, HWY 34 & Peoria Rd., Corvallis, OR

Elkins Bem Stones, 972 S. Main St., Prineville, OR, 541-447-5547

Quant Rock Shop, 1411 Spruce Ln, Prineville, OR, 97754-2915, 541-447-5548

Rough & Tumble, 904 Fair Oaks Rd., Oakland, Or, 541-459-3351

J&L Mining & Minerals, 332 S. Main, Canyonville, OR, 541-839-6889

Dan's Rock Shop, 672 NE Garden Valley Blvd., Roseburg, OR, 541-882-2251

C's Little Rock Shop, 2928 Green Springs Dr., Klamath Falls, OR, 541-882-2251

Gifts of Time, 1008 Main St., Klamath Falls, OR, 541-850-3733

Ashland Rock Shop, 397 E. Main St., Ashland OR, 541-488-3600

Brahma Brand Canvas & Rock Shop, 785 Rogue River Hwy., Grans Pass, OR, 97527, 541-476-7779

Erickson's Rock & Gift Shop, 1493 Rogue River Hwy., Grans Pass, OR, 97527, 541-476-2137

Petersen Rock Garden & Museum, 7930 SW 77th St., Redmond, OR, 541-382-55747

Rock-N-Wood Shop, 2309 NW 98th Lane, Redmond, OR, 541-548-1952

Canutt's Gems and Rocks, 7480 S. Hwy. 97, Redmond, OR, 541-548-2333
-----------------------------------------------------------



Pennsylvania

Smoley's Don Minerals & Gems, 2107 W Run Rd, Homestead, PA, 15120-2647, 412-462-1423

Patek Designs, 1220 E. Carson St., Pittsburgh, PA 15203, 381-6055

PUGDOG's Rock & Bead Shop, 5802 Douglas St., Pittsburgh, PA 15217, 412-420-1020, Tue-Sat 1-8PM, Sun. 12-3PM.

Appalachian Rock Shop & Museum, Rt19 Rt 19, Harmony, PA, 16037, 412-452-9356

Rock & Mineral Club Of Central Pennsylvania, 1537 Main St, Mechanicsburg, PA, 17055-5942, 717-697-3339

Nature's Treasures Rock Shop and Pottery, 961 Downingtown Pike, West Chester, PA, 19380, 11-4 T-T, 10-4 Sat.

Eds Rock Shop, 2801 E Market St, York, PA, 17402-2406, 717-755-4947

Eds Rock Shop, 2519 S Queen St, York, PA, 17402-4965, 717-741-5884

L & D Gemcraft, 913 Silver Sprint Rd. P.O. Box 266, Silver Spring, PA, 17575, 717-285-5006

Bald Eagle R & Gems, 202 Basin St, Williamsport, PA, 17701-5302, 717-322-2758

Weavers Gems & Minerals Inc, 4251 Chestnut St, Emmaus, PA, 18049-1019, 610-967-2547

Gilman's Mineral & Lapidary Supply, Lost River Caverns, Hellertown, PA, 18055, 610-838-8767

Howard's Rock Shop, 3675 East Swamp Road, Doylestown, PA, 18902, 267-255-1965, 215-340-1975

American Mineral Gift, 326 Steele Rd, Feasterville Trevose, PA, 19053-4548, 215-364-1114

Beys Rock Shop, Rt 100 North, Boyertown, PA, 19512

Bradys Village Art Gallery & Rock Shop, 3312 Main St, Morgantown, PA, 19543, 610-286-8900

Bellevue Gem & Rock Shop, 507 Bellevue Av, Reading, PA, 19603, 610-929-4546
-----------------------------------------------------------



Rhode Island

Geoclassics, Bowen's Wharf, 61 America's Cup Ave., Newport, RI 02840, 401-849-5587Apple Valley Minerals, 7 Homestead Ave., Smithfield, RI, 02917, 401-231-0602
----------------------------------------------------------



South Carolina

Beckham's Barn, 1751 Kennerly Rd., Irmo, SC 29063, 803-781-3589 (Sat. Only)

A-A Gem & Mineral Shop, 7608 Marie St, Columbia, SC, 29209-3934, 803-776-2693

Mr Jims Rocks And Minerals, 409 Westbrook Ct, Spartanburg, SC, 29303-2039, 864-573-9488

Sapphire Island Gem Mine, 1705 Highway 17 S, North Myrtle Beach, SC, 29582-4040, 803-272-4367

PrettyRock, 2166 Gold Hill Rd., Suite 113, Fort Mill, SC, 29715, 704-641-9107 (Sat. and by appointment)

Pops Rock Shop, 107 Country Creek Dr, Pickens, SC, 29671-8303, 864-878-5570
----------------------------------------------------------



South Dakota

Fort Pierre Rock Shop, 608 Fort Chouteau Rd., Fort Pierre, SD, 57532, 605-223-9820

Morgan's Rock Shop, 3222 W. Rapid St., Rapid City, SD, 57701, 605-343-8167 (Guided tours, too, by appointment.)

Trading Post Rock Shop, 13646 S. Highway 16, Rapid City, SD, 57701, 605-348-2513

Ken's Minerals & Trading Post, , Custer, SD, 57730, 605-673-4935

Wild Bill's Anique Mall & Rock Shop, 2 W Hwy, Custer, SD, 57730, 605-673-4186

Scotts Rock Shop & Free Museum, 1020 Mount Rushmore Rd, Custer, SD, 57730-2136, 605-673-4859

Dakota Rock & Gift Shop, HC83, Box 3B, 3 mi. S. of Hermosa on Hwy. 79, SD 57744, 605-255-4058

Whitaker's Minerals, Box 562, Hill City, SD, 57745, 605-574-4277The Rock Shed, 515 1st St., Keystone, SD 57751, 605-666-4813

Rockhound Shop, Wall Drug Store, 510 Main St., Wall, SD, 57790, 605-279-2175
-----------------------------------------------------------


Tennessee

Gem & Mineral Museum The, 4805 Old Hickory Blvd, Hermitage, TN, 37076-2501, 615-391-0920

Stonekeepers, 111 E. Lytle St., Murfreesboro, TN, 37130, 615-849-1792, 615-898-0832

Coopers Gem Mine, 1136 Big Hollow Rd, Blountville, TN, 37617-6115, 423-323-5680

Small Wonders Lapidary, 704 River Rd., Church Hill, TN, 37642, 423-357-1509 (Appointment Only)

Planetary Treasures & Gems, 134 Broad St, Kingsport, TN, 37660-4202, 423-245-5626

Nature's Own/Mineral Wells, P.O. Box 8033, U.T. Station, 1510 Grand Ave., Knoxville, TN 37916, 423-673-8200

Riddle Gems & Minerals, 540 S Mendenhall Rd, Memphis, TN, 38117-4200, 901-682-8936

Rock n Rocks, POB 410, 342 Malone St., Adamsville, TN 38310, 731-632-3338, Email

Indian Creek Gem Mine, 1240 Columbia Hwy, Hohenwald, TN, 38462-2413, 615-796-4745
----------------------------------------------------------



Texas

Hallmark Rock Shop & Western Art Gallery, 201 S Mill St, Lewisville, TX, 75057-3976, 800-682-9124

Peerless Minerals, P.O. Box 2256, McKinney, TX 75070, 214-529-1080, Rocks@Rocs2Go.com

Nature's Gallery, 1106 Elm St. Carrollton, TX 75006, 972-446-1994

Mineral Hunters, 405 N Bowser Rd, Richardson, TX, 75081-2856, 972-231-9718

Gems & Minerals-Fine Jewelry, , Dallas, TX, 75201, 214-954-1930

Treasure of Nature, Coit & Arapaho, 216 Spanish Village, 972-386-0732, 972-386-1844 (fax)

Rug & Rock Shop The, 1620 Oak Lawn Ave, Dallas, TX, 75207-3402, 214-742-8638

Hairys Rock Shop, 8575 Ferguson Rd, Dallas, TX, 75228-5343, 214-320-0719

Pleasant Oaks Gem And Mineral Club, 10205 Plano Rd, Dallas, TX, 75238-1714, 214-553-8344

Rock Barrell, 13650 TI6 Blvd., #104, Dallas, TX 75248, 972-231-4809

Arlington Gem & Mineral Club, 4210 Barnett St, Arlington, TX, 76017-5821, 817-465-5691

Fort Worth Gem and Mineral Club, P.O. Box 11204, Ft. Worth, TX, 76110

Museum Rock Shop, 9923 Highway 80 W, Fort Worth, TX, 76116-1213, 817-244-1035

For The Joy of It, 6516 Briley Dr., North Richland Hills, TX 76180-8068, 817-514-3008

Crystal Castle, 228 Westheimer Rd, Houston, TX, 77006-3222, 713-526-6165

Collector's Choice, 5021-A Augusta, Houston, TX 77007, 713-862-5858

Crystal Store The, 7320 Ashcroft Dr, Houston, TX, 77081-6342, 713-774-3200

Houston Gem & Mineral Society, 10805 Brooklet Dr, Houston, TX, 77099-3501, 281-530-0942

Johnson's Rock Shop, Indian Springs, Livingston, TX, 77351, 409-563-4438

Spring Creek Rocks & Minerals, 302-A Gentry St, Spring, TX, 77373-8316, 281-288-3119

Jeanne's Rock & Jewelry, 5420 Bissonnet, Bellaire, TX 77401, 713-664-2988

Mercer Minerals, P.O. Box 1335, Katy, TX 77492, 713-391-8998

The Crystal Odyssey, 622 Marina Bay Dr., Kemah, TX, 77565, 281-535-2000 (Primary Focus on Metaphysical Minerals)

Roys Rock Shop, 403 Bradford Ave, Kemah, TX, 77565-2371, 281-334-3229

Blue Crystal Rock Shop, 315 N. Main St., Hallettsville, TX, 77964. 361-798-5866 By Appointment Only

Alamo Rock Shop, 27642 Ih 10 W Unit 3, Boerne, TX, 78006-6526, 210-698-2666

Rocks, Etc., 208 S. Castell Ave., New Braunfels, TX 78130-5104, 830-629-6561

Bitterroot Rocks & Minerals, Corpus Christi, TX 78410, 361-767-7045, Email

Solomons Mine Gem & Rock Shop, 2033 Airline Rd, Corpus Christi, TX, 78412-4626, 512-993-6682

Volcano Rock Shop, 1600 N Dunlap Ave, Mission, TX, 78572-3899, 210-585-9811

Dons Rock Shop, Highway 29 W, Buchanan Dam, TX, 78609, 512-793-2740

Natural Treasures Minerals & Fossils, Austin, TX , 512-443-8053 (By Appointment)

Crystal Rock Shop The, 8610 N Lamar Blvd, Austin, TX, 78753-5547, 512-837-5359

Earthworks, 2709 Sam Bass Rd., Round Rock, TX. 78681, 512-255-2844 (Sat 9-6 only, or by appointment)

Austin Gem & Mineral Society, 6719 Burnet Ln, Austin, TX, 78757-2426, 512-458-9546

Little Gallery & Rock Shop, Hwy 71, Smithville, TX, 78957, 512-237-3635

Goodnow's, 3415 S. Hayden, Amarillo, TX 79109, 806-352-0725

Core Craft, etc, 1112 N. Big Spring St., Midland, TX, 79701, 432-687-1631

World Of Minerals, 400 N Main St, Midland, TX, 79701-4710, 915-684-7888

Midland Gem & Mineral Society Inc, 801 S Fort Worth St, Midland, TX, 79701-7371, 915-684-9122

Chiefs Rock Shop, 801 S Calvin St, Monahans, TX, 79756-5119, 915-943-2539

Ocotillo Enterprises, 205 N. 5th, Alpine, TX 79830, 915-837-5353

Rock Hound Supply, 108 S. Polk, Amarillo, TX, 79101, 806-372-3949. 8:30-5 M-F, 8:30-Noon S.

Golden Spread Gem & Mineral Society, 108 S. Polk, Amarillo, TX, 79101, 806-372-3949. Meetings Last Monday 7PM

Moonlight Gemstones, 1001 W. San Antonio St. TX 79843, 915 729-4526, ysgwd@overland.net

Tatum Minerals, 3901 Pershing, El Paso, TX, 79903, 915-565-0619

Julies Rock Shop, 8704 Mount Baldy Dr, El Paso, TX, 79904-2013, 915-755-5220

Arroyo Rock Shop The, , El Paso, TX, 79910, 915-772-2136

Gorins Gemarts & Rocks, 4108 N Piedras St, El Paso, TX, 79930-4112, 915-565-2666

Crystal Cavern Minerals, 1800 Arnold Palmer Dr, El Paso, TX, 79935-3024, 915-593-1800 (Wholesale)

El Paso Rock Shop, 14573 Bradley Road, El Paso, TX, 79938, 915-857-2477, 915-857-6815, 915-857-7335
-----------------------------------------------------------



Utah

CC Forrester -- Fine Minerals & FossilsFullbright Studios, 216 E. Min St., Vernal, UT, 84078, 435-789-2451, M-S 8-8,

EmailRockpick Legend Co., 1955 N Redwood Rd, Salt Lake City, UT, 84116, 801-355-7952, 1-888-ROCKS2U. Email

Brysons Gem & Lapidary, 246 Washington Blvd, Ogden, UT, 84404-6317, 801-399-2838

Nenos Rock Shop & Guide Service, 648 W Main St, Delta, UT, 84624-8703, 801-864-4143

Tinas Jewelry & Minerals, 320 E Main St, Delta, UT, 84624-9470, 801-864-2444

Larrys Jewelry & Rock Shop, 693 E 100 S, Spanish Fork, UT, 84660-2203, 801-798-2758

Escalante Rock Shop, Escalante, UT, 84726, 435-826-4796

Wide Hollow Petrified Rock Shop, 475 North Wide Hollow Road, Escalante, UT, 84726

Bryce Mountain Rock Shop, 21 N Main, Hatch, UT, 84735, 801-735-4354

Geosearch Rock Shop--Minerals & Jewelry, 4638 Dry Creek Road, Marysville, UT, 84750, 435-326-4314

Johnnys Rock Shop, 40 W Main, Elsinore, UT, 84754, 801-527-4393

Fishers Rock Shop & Jewelry, 400 W State St, Orderville, UT, 84758, 801-648-2255

Joe's Rock Shop, , Orderville, UT, 84758, 801-648-2425

Alpine Gems & Minerals, , Parowan, UT, 84761, 801-477-3350

Ruby's Canyon Rock Shop, Hwy 63 (Just outside Bryce Canyon Natl. Park, Bryce, UT 84764

Zion Rock & Gem, 1416 Zion Park Blvd, Springdale, UT, 84767, 801-772-3436

Decor Rock Shop, 1880 Zion Park Blvd, Springdale, UT, 84767, 801-772-3347

Vermont

Riverknoll Rock Shop, Route 100, Stockbridge, VT, 05772, 802-746-8198
----------------------------------------------------------



Virginia

C. Carter Rich, P.O. Box 69, Aldie, VA 20105, 703-327-6373 (Appointment Only)

The Rock Shop, 406 Huntfield Ct NE, Leesburg, VA, 20176-4926, 703-779-7587

Lou Bon Gems & Rocks, 29 Main St., Warrenton, VA 20186, 540-351-6123

Gem Smith, 13211 Midlothian Turnpike, Midlothian, VA 21113, 804-307-9079

Victor Yount, 8388 Lunsford Rd., Warrenton, VA 22186, 540-347-5599 (Appointment Only)

New Age Stones, P.O. Box 251, Strasburg, VA, 22657, 540-459-5314

Golightlys Rock Shop, , Leon, VA, 22725, 540-547-2714

Morefield Gem Mine, 13400 Butlers Rd, Amelia Court House, VA, 23002-2909, 804-561-3399

Packards Rock Shop, 13131 Midlothian Tpke, Midlothian, VA, 23113-4207, 804-794-5538

Brex Minerals, 3001 Travis Close, Williamsburg, VA, 23185-7666, 757-258-3781

Stone Goddess Rock Shop, 10017 Jefferson Davis Hwy., Richmond, VA 23237, 804-279-0780

Curiosities Rock Shop, 1400 Atlantic Ave, Virginia Beach, VA, 23451-3419, 757-428-1882

Curiosities Rock Shop, Pembroke Mall, Virginia Beach, VA, 23458, 757-497-7285

Tidewater Gem & Mineral Society, 4143 Thistle Cir, Virginia Beach, VA, 23462-4926, 757-474-1661

J A C A Rocks & Gems, 129 Valirey Dr, Hampton, VA, 23669-1815, 757-850-8702

The Genesis Company, 4410 Rt. 17, Grafton, VA 23692. 757-898-1272

Stones N Bones, Community Market, Main Street, Lynchburg, VA 24502, 804-528-24502

Bass Gems & Minerals Ltd, 9400 Martinsville Hwy, Danville, VA, 24541-6830, 804-685-3779

Rock Garden The, 121 Great Oaks Dr, Madison Heights, VA, 24572-5000, 804-846-6699
----------------------------------------------------------



Washington

Mostlyrox, 806 237th St. SE, Bothell, WA, 98021, 425-402-6620 (in Country Village)

Jerrys Rock & Gem, 804 W Valley Hwy, Kent, WA, 98032-2916, 253-852-0539

Earthlight Crystals & Minerals, 46 Lake Shore Plz, Kirkland, WA, 98033-6110, 425-828-3872 11-6:30 M-S, 12-5 Sundays

Parallax Gallery, 36417 State Rt. 2, Startup, WA 98293, 360-793-9588

Bruce Wood Minerals, 7104 96th St. East, Puyallup, WA 98371, 253-848-5959, EmailJade Drive Rock Shop, 120 E Jade Dr, Shelton, WA, 98584-7557, 360-426-2327

Turkish Gems and Minerals, 10513 NE 117th Ave., Vancouver, WA 98662, 360-896-7484

Handley Rock & Jewelry Supply, 6160 NE Hwy 99, Vancouver, WA, 98665, 360-693-2034

We Got Rocks, 114 W. 1st St., Cle Elum, WA 98922, 509-674-0354, Email

Washington Rock, 102 E. Main St., Metaline Falls, WA, 99153, Email

Irv's Jewelry & Rock Shop, E11907 Trent, Spokane, WA, 99201, 509-924-5464, Email
---------------------------------------------------------



West Virginia

Sunset Fossils and Minerals, 575 Beaumont Dr., Morgantown, WV, 26508, 304-594-1036 (Appointment only)
-------------------------------------------------------



Wisconsin

The Gem Shop, W64 N723 Washington Ave., Cedarburg, WI 53012, 414-377-4666

Crystal Haven Rock And Gem Shop, 50n6898 Country La, Menomonee Falls, WI, 53051, 414-251-7537

Aces II Rock Shop, 3w23580 Silver Spring Dr, Sussex, WI, 53089, 414-246-6684

C West Gems & Minerals, 803 W Main St, Lake Geneva, WI, 53147-1804, 414-248-0304

The Crystal Ball, Inc., 215 N. Chicago Ave., South Milwaukee, WI, 414-764-3861

New Spirit Jewelers & Crystal Gallery, 1918 E. Capitol Dr., Shorewood, WI 53211, 414-964-7008, 888-255-1175

Museum Of Minerals And Crystals, 4334 State Road 23, Dodgeville, WI, 53533-8910, 608-935-5205

Rockhound, Ltd., P.O. Box 8483, Madison, WI, 53718, 608-222-4842 (Call First)

Burnies Rock Shop, 901 E Johnson St, Madison, WI, 53703-1621, 608-251-2601

C & J Rock Shop, 417 E Main St, Waupun, WI, 53963-2161, 414-324-4697

Bergs Rock Shop Inc, 1231 Pearl St., N., Prescott, WI, 54021-1813, 715-262-5841

Thunder Mountain Rock Shop, RR 2, Crivitz, WI, 54114-9802, 715-757-3594

Crystal Pathway, 1106 Washington St., Manitowoc, WI, 54221, 920-682-8680

Leach's Rock & Gift Shop, 250 Hwy. 73, P.O. Box 83, Port Edwards, WI, 54469, 715-887-3210

Garys Rock Shop, 317 S Main St, Viroqua, WI, 54665-1653, 608-637-7700

Jack Pine Rock Shop, 15822 E. 2nd. St. Hayward, WI, 54843, 715-934-2130

The Gem Shop, Cedarburg, WI
---------------------------------------------------------



Wyoming

Wheatland Rock Shop, 1808 9th St, Wheatland, WY, 82201-2143, 307-322-2192

Coulters Rock Shop, 1503 11th St, Wheatland, WY, 82201-2321, 307-322-3252

Torrington Rock Shop, Rte. 1, Box 491, Torrington, WY, 82240, 307-535-5938

Rose's Rocks & Gifts, 5026 W. Lafayette, Casper, WY 82604

Tynsky's Rock & Jewelry, 706 Dewar Dr, Rock Springs, WY, 82901-5911, 307-352-3706

Antares Fossils & Minerals, 431 Front St., Evanston, WY, 82930, 307-789-8737

KAB Jewelry & Rock Shop, 1660 Wyoming Dr., Green River, WY, 82935, 307-875-5582, Email

Norman's Rock Shop, 240 N. 8th St., Lander, WY, 307-332-2441

Don's Rock and Gift Shop, 8917 Hwy 16 W., Buffalo, WY, 307-684-7983

Star Valley Gift & Rock Shop, , Thayne, WY, 83127, 307-883-2028