.


Heat Treating Sapphire Rubies, Corundum Heat Treating, Montana Sapphire heat Treating,Sapphire Heat Treater,Sapphire Heat Treating,Ruby Heat Treating,

SAPPHIRE & RUBY HEAT TREATING SERVICE
[CORUNDUM HEAT TREATMENT]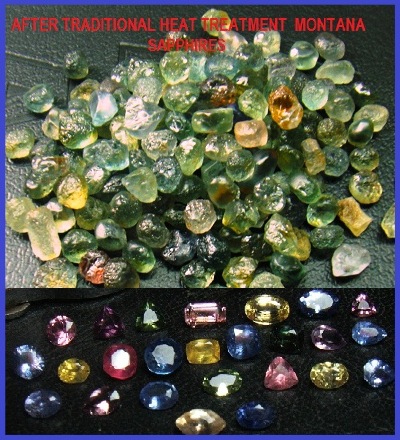 BOOST UP YOUR
PROFIT MARKUP
BY
HEAT TREATING
YOUR
POOR QUALITY
SAPPHIRES
OR
RUBIES
********************
COULD BRING
HIGHER VALUE
$$$$$$


WHY HEAT TREATMENT NEEDED for Certain SAPPHIRES & RUBIES

To improve Color & Brilliance(Improve Clarity)but certain type of Origins
of Corundum do not give 100% positive result on heat treatment always.
Today's Market you find 90% of Sapphires are Heated in traditional method
to improve the color & clarity.

WHAT DOES Heat treatment do to the Sapphires & Rubies.. ?

Certain type of undissolved natural impurities(Chemical elements)
which is presented in the natural rough corundum's can be dissolve
by very high heat & could turn them to improve color & to open the
crystal of the gems into a transparent gemstone instead of semi-
transparent, translucent & in some occasion translucent to opaque
type of gems. Mostly Dark Blue Sapphires are unable to change into
lighter tone color by heat Treatment but Sapphire with lighter color or
colorless (with slight presence of undissolved chemical elements being
in gemstones,such as Geuda) can be improved by treatment (color &
clarity).Most Sapphires come's out of USA mines (Montana),no need
to do pre-shaping or trimming ( to remove certain type of inclusion
to avoid cracking, shattering in high heat ]. Crystal structure formation
on Montana Sapphire allows us to heat treat them as its without pre-
shaping , most of other origins need to be pre-shaped and trimmed
(removing certain type of inclusion prior to treatment to avoid cracking
& shattering) Further pre-shaping (removing certain type of inclusion),
We need to charge a small FEE. In pre-forming your rough stones will
loose some weight . If you are not family or do not know how to figure-
out the out come of the Heat Treatment.. its advisable to Heat-Treat
a small Quantity like 50 odd carats [10 grams]To get an idea of your
rough stones before going on to larger quantity.

Heat Treating Sapphire Rubies, Corundum Heat Treating, Montana Sapphire heat Treating,Sapphire Heat Treater,Sapphire Heat Treating,Ruby Heat Treating,


WE COULD HEAT TREAT YOUR SAPPHIRES, RUBIES & FACET THEM TO HIGH-QUALITY STANDARD [ DIAMOND STANDARD CUTTING ]

=================================================================

.

SAPPHIRE & RUBIES HEAT TREATING RATES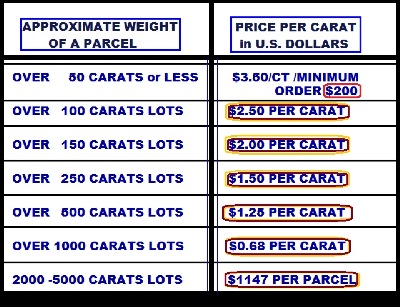 Heat treating Rates Subject to change if your rough Crystal need more dosage of Heat treatment after examine your rough crystal physically,Only if we confront any issues with your rough crystal.

METHOD OF SHIPPING YOUR ROUGH GEMSTONE FOR TREATING:
You could ship your rough stones to Sri Lanka for TREATING via Postal Express
(EMS) or regular Registered Air-Mail, otherwise you could use Courier Service,
We would recommend you to ship your rough stones via EMS [ Express Mail
Service through Post Office], its faster, safer and easy to track online like
FedEx. PLEASE READ THE SHIPPING INSTRUCTION BELOW


CUSTOMERS from USA would like to know the shipping rates,
CONTACT : USA Postal Service [ CLICK-HERE ]


SHIPPING ADDRESS
=================
Sithy GMS Lapidary
246/3 Matale Road,
Akurana, Sri Lanka,
No Zip Code Needed


=====================================================

SHIPPING INSTRUCTION
[ HOW TO SHIP YOUR ROUGH GEMS FOR CUTTING OR HEAT TREATING SERVICES ]

Please make out a Shipping Invoice in a piece of paper and insert
inside the package mentioning the name of the gemstone,Weight,
Piece count & Dollar value between the amount of $50 to $500 For
the Purpose of Customs of Sri Lanka. Further write it down on the
Postal Custom's form or Postal Shipping Documents as" MINERAL
SPECIMENS" instead of "Gems", "Gemstones" or any and on the
bottom of the Shipping Invoice write it down as"Gems are sent for
Cutting, Polishing only or else "Heat Treatment purpose only"


FURTHER DO NOT FORGET TO EMAIL US THE ITEM YOU
SHIPPED .....( DETAILS OF ROUGH GEMS SUCH AS NAME
OF THE GEMS, WEIGHT BY GRAMS OR CARATS ) WE HAVE
TO PROVIDE THESE INFORMATION TO CUSTOMS OF SRI
LANKA DURING INSPECTION. IF FAIL TO DISCLOSE DETAILS
OF THE ROUGH GEMS PRIOR TO CUSTOMS INSPECTION
YOUR SHIPMENT MIGHT GET DELAYED IN CUSTOMS OF
SRI LANKA, BEFORE THEY RELEASE YOUR PARCAL (GEMS).

THEREFORE PLEASE EMAIL US THE DETAILS IMMEDIATELY AFTER
YOU SHIP THE ROUGH GEMS FOR CUTTING OR TREATING PROCESS.


PAYMENT
After finish cutting your stones, we will email or fax you a detail Invoice
(Cost of cutting AND Shipping Cost). At the receipt of the funds through
Western Union,Paypal, International Money Order or wire transfer to our
Bank we will ship your stones back to you via Postal Service by registered
airmail, so normally the postman brings the goods, you sign for them and
you have them without further formalities.


Heat Treating Sapphire Rubies, Corundum Heat Treating, Montana Sapphire heat Treating,Sapphire Heat Treater,Sapphire Heat Treating,Ruby Heat Treating,